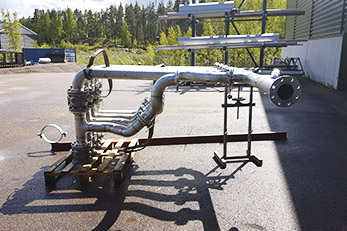 INDUSTRIAL PIPELINES
We make all kinds of pipelines for industrial purposes. Thanks to our versatile expertise, excellently functional solutions are generated in a cost-effective manner, regardless of the scale.
We have an A2 certificate for the manufacture of pressure equipment and pipes, issued by a notified body. We are able to manufacture pressure equipment pursuant to Module G under the supervision of a third party.
All of our welds are done according to WPS. Our procedure tests cover all material groups 1.1, 1.2, 5.1, 8.1, 10.1 (P235GH, P355NH, 316L, 304L, 1.4462), and we implement them according to our client's needs as well. All of our welders have qualifications according to standard ISO 9606-1.
---
MACHINE AND EQUIPMENT INSTALLATIONS
We do all installations related to industrial pipelines, including installations for pumps, heat exchangers, valves and tanks.
---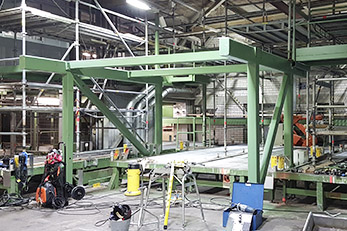 STEEL STRUCTURE WORKS
Steel structure works consist of diverse solutions for the industrial and construction sectors. Among other things, we make primary and secondary brackets, pipe bridges, service platforms and other necessary products.
We observe all valid standards, directives and regulations in our iron works, according to the specific needs of our clients and projects. For example, we offer the production of CE-certified iron structures in implementation classes EXC1, EXC2 and EXC3. All of our welding is done pursuant to the requirements set by standards ISO 3834-2.