For us, quality means that the client will be able to rely on our handiwork in any situation. We are always reaching for an excellent customer experience, which consists of a wide selection of services, clear project management, quick reactions and good cooperation.
We want to focus on both meeting the client's needs and maintaining and developing a high level of expertise. In terms of quality management, this means investing in essential issues such as management, design, work methods and work safety.
---
QUALITY CONTROL IN MANUFACTURING
INDUSTRIAL PIPELINES AND STEEL STRUCTURE
We want to be active in developing quality controls. Our operational system and quality manual are based on the requirements set by the standard series ISO 9001, ISO 14001 and ISO 45001. We have also signed agreements with third party quality controllers pertaining to for example the manufacturing of pressure vessels pursuant to Module A2. We are able to manufacture pressure equipment pursuant to Module G under the supervision of a third party.
In our production processes, we observe clear industry rules and criteria. We have been awarded the certificate pursuant to EN 1090 for the implementation classes EXC1, EXC2 and EXC3, and we carry out all welding jobs according to the requirements of standards EN ISO 3834-2.
We employ our own quality and welding coordinator, and we follow an approved WPS in all of our welds. The WPS is based on procedure tests, of which our procedure tests cover the material groups 1.1, 1.2, 5.1, 8.1, 10.1 (P235GH, P355NH, 316L, 304L, 1.4462). The procedure test qualifications can however be implemented according to the client's wishes.
Our final project documentation includes a final inspection and conformity evaluation before the product is handed over to the client. We do our final documentation according to all relevant standards, directives and the client's requirements.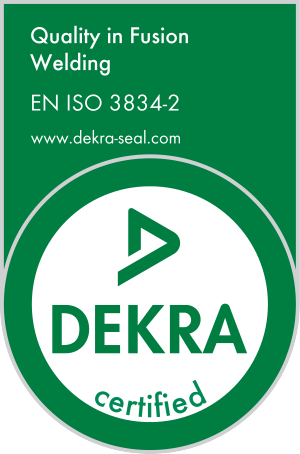 ---
SAFETY PRINCIPLES
Safety and health always take priority over other requirements. Work environment and safety operations emphasise actions that promote good health and are predictive: risks are mapped, identified and eliminated or minimised.
The management and the employees are jointly responsible for the continuous development and improvement of the working environment, so that accidents and health hazards could be avoided as well as possible. The minimum requirement is observing currently valid legislation concerning the working environment, in addition to which everyone is responsible for their own safety and the safety of their co-workers.
We always use the necessary personal protective equipment, and we are always prepared for emergencies that require quick reactions.
---
VALUES
The value of the services provided by Lämpösulku Oy is their continuity and excellent quality.
Personnel is the company's greatest asset
Calm, controlled and stylish implementation and growth
Professional staff
Reliability, Partnership, Interpersonal relations, Handiwork, Good service, Personnel well-being
Lämpösulku stands out from the competition by quality, continuity and a fully domestic workforce. Pull factors and purchasing decision facilitators are ease, quality and speed.